"Indulge not your bodies with rest, but work with all your souls, and with all your hearts cry out and beg of God to grant you His succour and grace."
'Abdu'l-Bahá
This is the most beautiful and well thought out app I've ever used. I always appreciate seeing the writings on my phone when I wake up. I recommend this so very much. Thank you for creating this. 🙏🏼
⭐⭐⭐⭐⭐
There have been other apps featuring the Baha'i Writings but this is by far the most user-friendly program to date. I copy and paste to social media often and the bookmarks help me find where I left off. There are many other features I have not even discovered yet. Good job, developers. Aloha and Mahalo!
⭐⭐⭐⭐⭐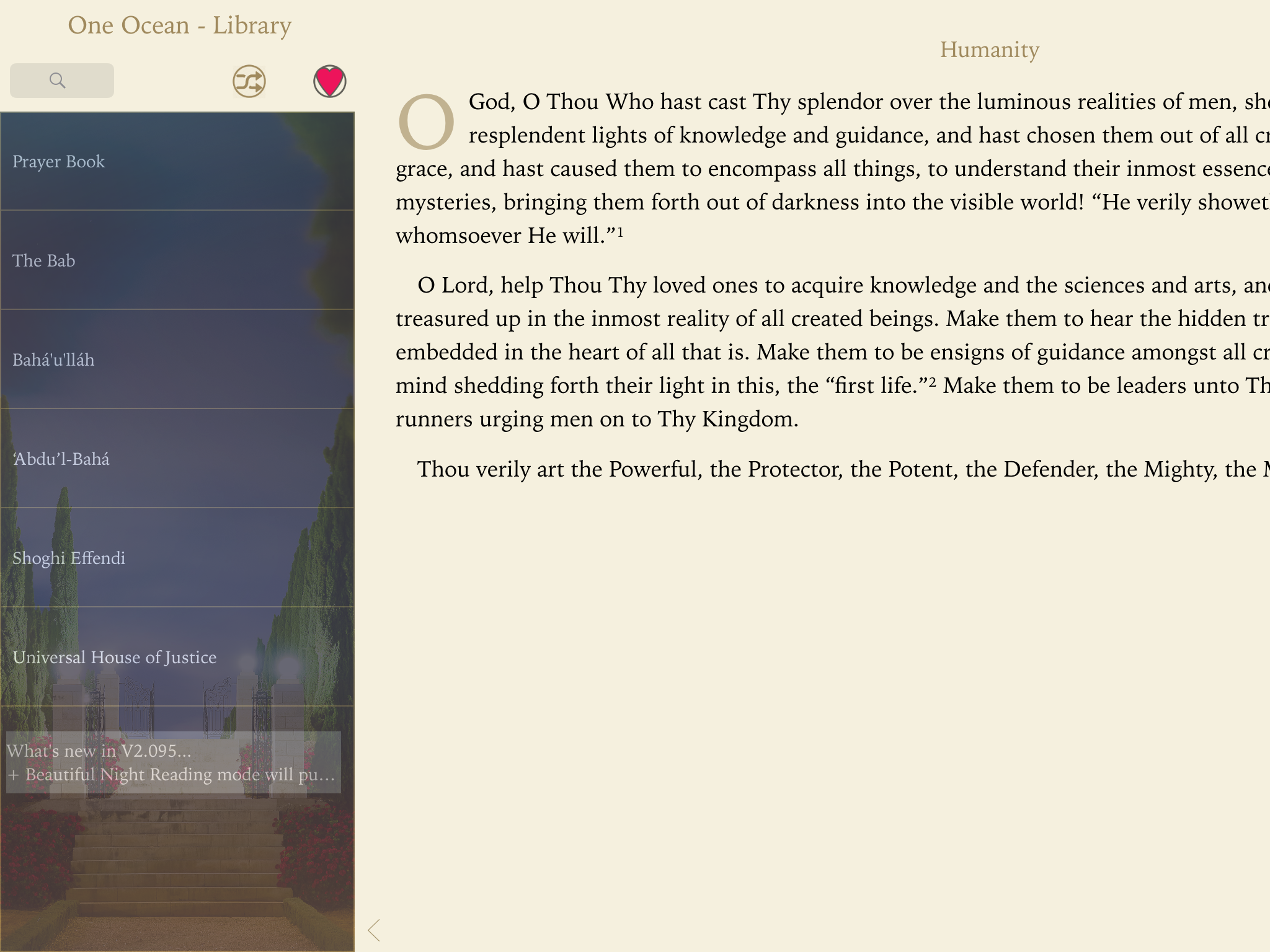 Sacred Writings in the centre of a beautiful design
One Ocean was designed with a strong focus on having the Sacred Writings at the centre of the App. Less buttons on the main screen, together with a beautiful font and layout will create a inspiring and distraction free reading experience. With the original Baha'i Library on the left and your personal collection of Quotations on the right One Ocean makes sure that the Sacred Writings will always stand for themselves and will never be clogged up in a space of customisation.
This App is designed to Inspire the friends to rethink how technology can serve the Faith.
'Abdu'l-Bahá on science
"Science may be likened to a mirror wherein the infinite forms and images of existing things are revealed and reflected. It is the very foundation of all individual and national development. Without this basis of investigation, development is impossible. Therefore seek with diligent endeavour the knowledge and attainment of all that lies within the power of this wonderful bestowal."
~ 'Abdu'l-Bahá